Main information:
Castle courtyards
Fourth courtyard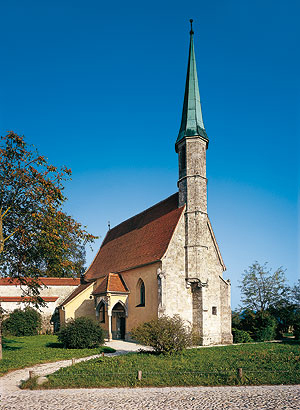 St Maria's Chapel, which lies in the outer area of the castle, was known as Hedwig's Chapel. It was built between 1479 and 1489 under Duke Georg the Rich and his consort Hedwig. The chapel is an important example of late Gothic architecture.
There has been a garden next to the chapel since at least the 16th century. It is mentioned in a description of the castle dating from 1573. Today the garden is known by the name of "Vicedom Garden" (a vicedom was the highest administrator and representative of the duke). The arrangement of the garden into a regular grid of paths and planted beds can be traced onplans dating back to the 18th century.
Close by the garden is the Gardener's Tower. In 1573 this tower was referred to simply as a watchtower, but its traditional name indicates its use as living quarters. A dual function was common for many of the towers at the castle.
Panoramic shot (360 degrees) of the fourth courtyard and the Hedwig's Chapel
---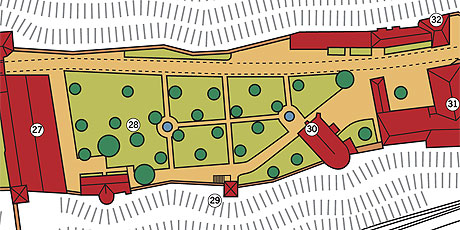 27 Former prison
28 Vicedom Garden
29 Gardener's Tower – viewpoint
30 Outer castle chapel –
known as Hedwig's Chapel
31 Tax office for levies in kind
32 Tower where levies in kind were received