Main information:
Castle courtyards
Fifth courtyard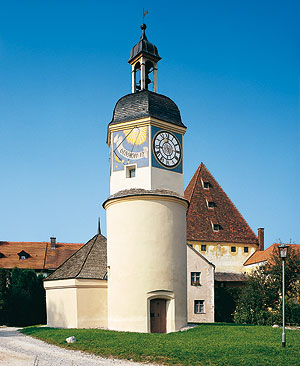 The fifth courtyard is the outermost and also the largest courtyard in the castle. Its appearance has changed much in the course of the centuries. Up until around 1800 the "Schütt" stood here, a mighty fortified building and storehouse built in the 15th century. This closed off the castle complex to the north.
Access to the castle from the north was originally via the Öttinger Gate, of which a single gate tower is all that remains. From here one progressed further into the castle complex via the "Grosse Bastei" and through Christoph's Gate.
Administration offices and workplaces used to be located in this fifth courtyard, as well as apartments for officials and castle servants. These original functions are indicated today in the names of the buildings, e.g. "Rentmeisterei" (former tax office building) and the "Röhrenkehrerturm" (Chimney Sweep's Tower). The most distinctive building in the courtyard is the clock tower and adjacent well house. Close by, the traces of a horse pond can still be seen.
Entering the fifth courtyard from the car park (Curaplatz), you will find the House of Photography – Dr. Robert-Gerlich-Museum to your left.
Panoramic shot (360 degrees) of the fifth courtyard
---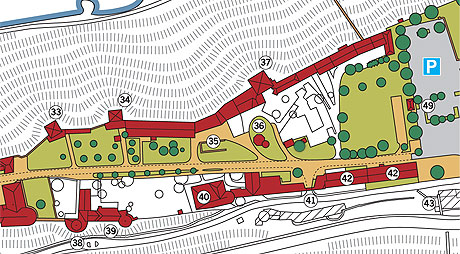 33 Beneficiaries' Tower
34 Court Clerk's Tower
35 Horse pond
36 Clock Tower
37 Former forest superintendent's building – Gallery "Die Burg"
38 Chimney Sweep's Tower
39 Master Carpenter's Tower
40 Tax Officer's Tower
41 Christoph's Gate – Exit to the town
42 Former tax office building – House of Photography
43 Former Öttinger Gate
49 Toilets